Regular price
Sale price
$13.00 USD
Unit price
per
Sale
Sold out
Marion A Schonewille
For the legal profession mediation is a fact of life. This toolkit helps you prepare for what you need to do to make the best of the process - for your client, for yourself.
Contents
I. Suitability check 

II. Process management, how to keep the mediation on track? 

1 The phases and the structure of a mediation process 
2 The role of a lawyer In a mediation
3. Factors for success and failure in a mediation 
3.1 Key factors for success in mediation 
3.2 Key factors for failure in mediation 
4. Responsibility of the lawyer during the pre-mediation phase
5. Directional consultation with the mediator and the opposing lawyer 
6. The mediation agreement and the main rules for mediation 
7. Process control in the opening phase 
8. Process control in the exploration phase 
9. Process control in the option and negotiation phase 
9.1 Process control during generating options 
9.2 Process control during negotiating 
10. Pitfalls in negotiating processes (how do suboptimal results develop?) 
11. Reaching an optimal negotiating result 
12. Process control during the closing phase 
13. Implementation and consulting the constituency 

III. Cost-benefit analysis 
Share
View full details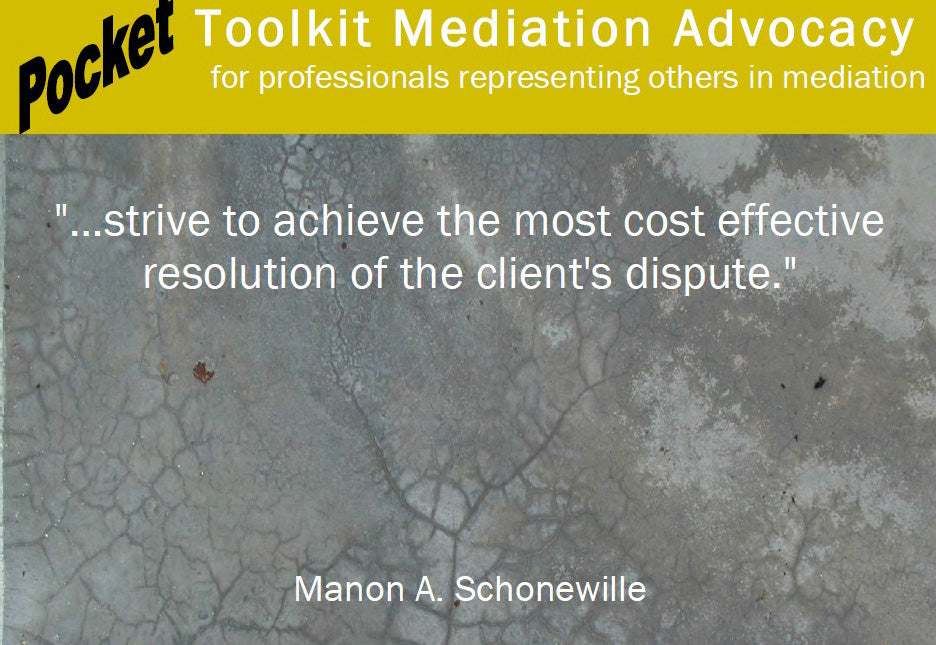 Contents
Contents are outlined above.
Note: this book is only available as an ebook - you can buy it here and it will be delivered instantly.